From a brewery that flourished
in Shukuba town to a sake
that spreads its wings overseas
Sasaichi-Shuzo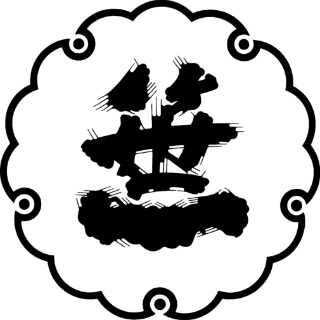 Aiming to be the No.1 sake brewery in Japan
 Sasago-machi, Otsuki City, Yamanashi Prefecture, once prospered as a post station on the Sasagotoge Pass, the most difficult part of the Koshu Road. The town was crowded with travelers from different cultures making it a strategic location for trading. The Sasago Oiwake Ningyo, a local puppet show, is said to have started as a way to entertain travelers during their stay. The Yatate no Sugi (Yatate Cedar), a huge tree designated as a natural monument by the prefecture, has been depicted in famous paintings by Katsushika Hokusai and Utagawa Hiroshige II, reminding us of this period of prosperity.
 Sasaichi Shuzo was founded in 1661 as Hanada-ya, a brewer of miso, soy sauce, and sake. The brewery name was changed to the current one in 1919 by the first generation brewer, Hisashi Amano, who later served as a member of the House of Representatives and governor of Yamanashi Prefecture. Combining the word "笹" which means sake in the old secret language of court ladies, and "一" which refers to the highest mountain in Japan, Mount Fuji, the name represents the brewery's determination to become the best sake brewer in Japan. The Sasaichi logo, which has been used since the brewery's inception, has a border with a motif of the "Yata no Kagami", one of the three sacred treasures.
 According to President Rei Amano, who serves as the fifth-generation brewer since October 2019, the brewing water comes from a private well and is natural water originating from Mt. Fuji. This water is filtered through lava rocks over a long period of time, and is known for its high clarity and low impurities. "It is said that this water carried to Edo Castle for tea ceremonies. The Emperor Meiji brought this very water with him when during his Imperial visit to Kyoto," said President Amano. It is no exaggeration to say that this natural water heritage, also called "Gozensui," has shaped the history of Sasaichi.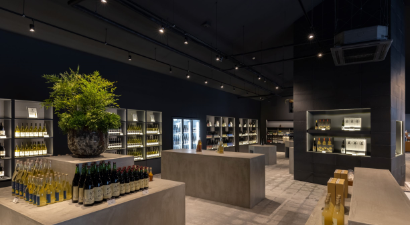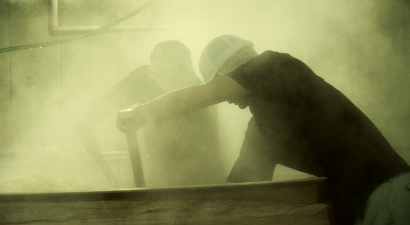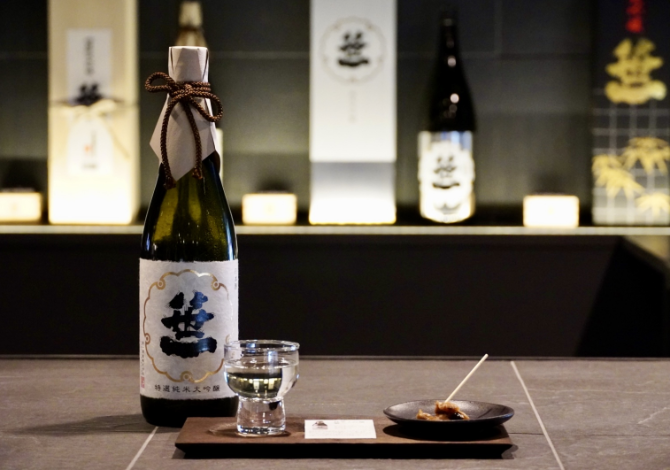 ---
Extracting Umami through Traditional Methods
 In the days when the consumption of sake continued to increase, the brewery mainly produced ordinary sake, which was appreciated for daily drinking. Now that we are at a turning point in time, with new needs for quality and added value, the mass production method was completely abolished after the 2013 sake brewing year, and the traditional method of making koji and sake mash by hand has returned.
 In February 2020, the brewery launched a completely redesigned product, the new "Sasaichi". Brewed by hand using 100% prefectural rice, the sake is a gem with a harmonious combination of acidity and umami. The powerful characters on the label were drawn by internationally renowned calligrapher Shoko Kanazawa.
 Another sake that has received high praise both in Japan and abroad as the ultimate food sake is "Dan," which was released in 2013. The appeal of this sake is its soft taste, which is a result of the good quality of the water, and its powerful flavor, which comes from the deliciousness of the rice. Since it cannot be mass-produced, it is sold only at about 60 distributors nationwide.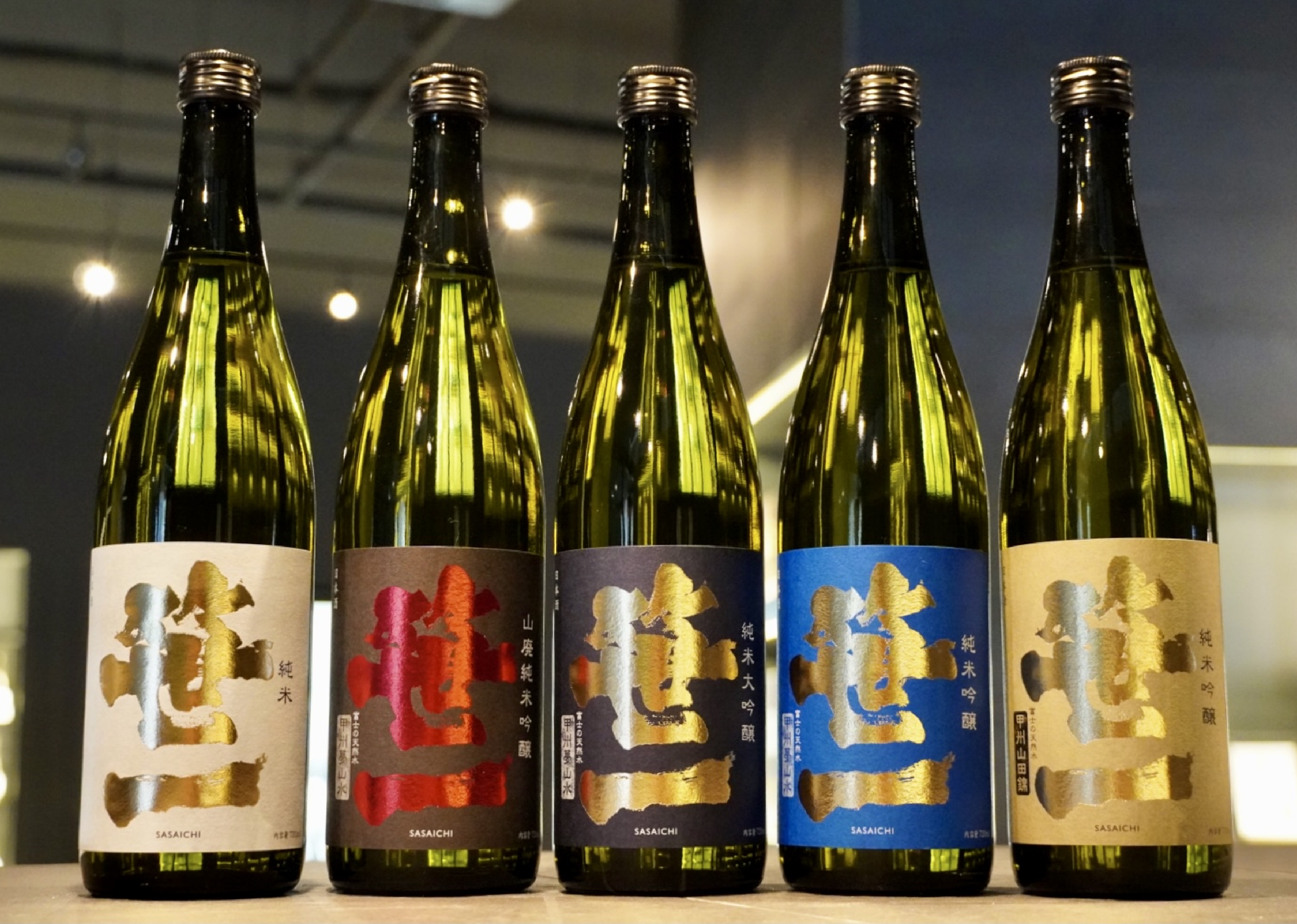 The special feature of this sake is the brewing method called Yamahai. Sake mash (yeast mash) is an important part sake brewing which can be divided into two categories: The rapid yeast mash and the nascent yeast mash. The Rapid yeast mash is made by adding lactic acid when mixing steamed the rice, koji, water, and yeast together, it has the advantage of allowing for rapid fermentation. On the other hand, the Yamahai method, which is similar to the process of making a traditional yeast mash, does not add brewing lactic acid but waits for the lactic acid bacteria to naturally grow and ferment. Although it takes longer time to ferment, it also produces a complex and deep umami in the taste. President Amano said, "The acidity coats the sake and allows it to age for a long time, so the flavor does not waver. I believe that only a sake with this kind of acidity can be recognised worldwide."
 Yeast with less aroma and carefully handcrafted koji are used to reveal & enhance the flavour of the rice. Using the finest water and rice, and fermenting it slowly at low temperature following traditional methods, provides "DAN" with a harmonious combination of expansive brewing aroma, pure and gentle acidity, sweetness, and umami.

Highly acclaimed in Japan and abroad
 In 2017, "Dan Junmai Ginjo Unfiltered Unpasteurized Sake" scored 91 out of 100 points in the sake version of Parker Point, a global evaluation standard for wine. Only 78 brands in Japan scored 90 points or higher, which is considered "outstanding," and only Dan was ranked from within the prefecture. In the 2018 Brussels International Competition SAKE Selection, "Dan Junmai Ginjo Aiyama" won the Platinum Award and "Dan Yamahai Junmai Ginjo Bizen Omachi" won the Gold Award. At the International Wine Challenge, "Dan Junmai Ginjo Aiyama" won the Gold Medal in the sake category in 2018, and other "Dan" varieties won multiple medals in 2018 and 2019. With the growing popularity of Japanese sake overseas, it is expected to make even greater strides in the future.
 Sasaichi, which is easily accessible from the Tokyo metropolitan area, attracts 100,000 to 200,000 tourists a year. In September 2020, they reopened its onsite direct sales store, "Shuyukan", which is a chic space with a layout and lighting that beautifully reflects the bottles on display. There is also a café and a tasting space for a fee, so that customers can stay longer and enjoy themselves. "My goal is also to combine sake tasting with sightseeing to offer an even richer experience to our customers. Here in Otsuki City, the gateway to Yamanashi, we are very close to the city center. I would be delighted if even more people could come and learn about Sasaichi history and commitment to quality sake made from Yamanashi ingredients." Sasaichi Shuzo has continued to grow while accurately grasping the needs of the times. It is sure that their sake will spread its wings not only in Japan but also overseas.
Sasaichi Co., Ltd
Address: 26 Yoshikubo, Sasago-machi, Otsuki City, Yamanashi Prefecture
TEL: +81-554-25-2111 FAX: +81-554-25-2620
URL:http://www.sasaichi.co.jp/